Alternate Title: What I did on my Summer Work-cation
This blog has been a bit quiet the last few months—a direct result of spending all of my non-work hours writing my first book. The CSS Pocket Guide, the results of all that effort, was just sent off to the printers earlier this week and hits the bookstores on October 25.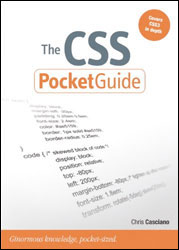 Getting Here
At the beginning of the Summer a client of mine, and author of The HTML Pocket Guide, Bruce Hyslop approached me on behalf of Peachpit Press who was looking for an author for the next book in their Web Design Series. It meant resigning any hope I had for a bit downtime this Summer after a busy Spring that included teaching for the first time, but after meeting and talking with the team and talking things over with some previous authors I jumped on board. Indeed, it took more than a few long nights and much help by a tech editing tag team of Michael Bester and Kimberly Blessing along with Kim and Cliff at Peachpit to pull together. But in the end I think it was worth the effort and I hope it plays a part in helping a person or two learn about building web pages with web standards and modern development practices.
Between The Covers
The goal of The CSS Pocket Guide is to provide a novice or experienced front end developer an introduction to the fundamentals of CSS and then guide them through the building layouts grids, styling type and other typical web content. It also is intended to double as a CSS reference book—organized loosely based on the contents of CSS3 modules making it easy to look up details for individual properties like margin, float, border-radius, or @font-face.
Pre-order The
CSS

Pocket Guide

You can pre-order The CSS Pocket Guide, available late October 2010 at your favorite book store:

The CSS Pocket Guide will also be released as part of a boxed set along with The HTML Pocket Guide by Bruce Hyslop and The JavaScript Pocket Guide by Lenny Burdette available late November 2010: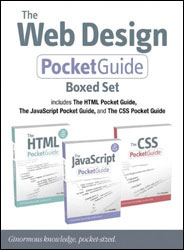 … And now it's time for things to start returning to what passes for normal and getting back into the groove of more regular posts about making web sites and making pictures.